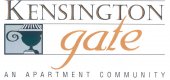 What People Are Saying...
Your Review
Submit a Review

Resident Reviews
|

Recommended: Yes
Thank you for your review and kind words, Shelmith. We appreciate your recommendation and review.
|Recommended: Yes
Love living here — Been here a short time and iv absolutely enjoying every bit of being here
Thank you for your review! The office staff and our wonderful maintenance tech are excited to hear you are enjoying living here at Kensington Gate! We strive to provide great communication and service to our residents. Please let us know if there is anything you may need. :)
|Recommended: Yes
Great — Management is very nice and answers questions right away if any. Along with maint. Staff.
Hi Sarah, Thank you, so much for the kind words! We're always happy to help! Margie
|Recommended: Yes
Comfortable — Comfortable
Thank you, Steven! We think so too!
|Recommended: Yes
It's great — I have no complaints.
Thank you Jennifer. That's always good to hear! Please contact us if that changes. We're happy to help! Margie
|Recommended: Yes
Clean, quiet and friendly — Living here is great It's quiet and everyone is super friendly
Thanks Justin! We think you're "super friendly" too! Margie
|Recommended: Yes
Very suitable — Lot of living space and no ruckus
Hi Romario, Glad to see you've settled in. We're happy to have you as one of our residents. Margie
|Recommended: Yes
Ok temporary housing — Parking is a nightmare, especially with so many cars not stickered and such limited parking. Neighborhood is not the safest either. It is gated, but just about everyone knows the code including all guests.
Hi Taylor, Thank you for this feedback. I'm always looking for positive ways to improve our community. Parking can be tricky, so we're working on a way to get folks make their parking stickers more visible. Thank you for your part in making this happen. Margie
|Recommended: No
Would not recommend — Neighbors are very loud at all times of the day and night. Obnoxiously loud cars blare music in the parking lot even in the early morning. Very little parking due to many unauthorized people parking there cars in the parking lot. Area does not feel safe have seen homeless walking threw lot and had my vehicle broken into and personal belongings stolen. Grounds keeper maintenance man is very friendly and does a good job at keeping the areas working and looking nice though.
Hi Anthony, Thank you for the compliment regarding maintenance and grounds employees. We like them too! We're sorry to hear the unfortunate news of you car break in. We encourage our resident to not keep anything visible in their vehicles. If you ever see or hear unlawful activity, please do not hesitate to contact the authorities. We want a safe and quiet environment for all. We try to maintain the parking for our residents only, but sometimes thats a difficult task. Please contact the office with your concerns and allow us to discuss the parking options with you. We value you as a resident here at Kensington Gate!
|Recommended: YesN a — N a
|Recommended: No
Don't bother with this place. If your neighbors are loud, don't expect anything done about it. Parking is a nightmare. Everyone and anyone can get into the gate, it's a false sense of security. The crime ie, breaking into vehicles, stealing, vandalism is outrageous for a gated apartment. Management is basically useless and doesn't do a damned thing. You're chastised for complaining about a neighbor when that neighbor keeps you up at night. Dogs aren't on leash. Many more issues and not enough time in the world to mention them.
Thank you for taking the time to send us a review, we appreciate the opportunity to better ourselves. We welcome the opportunity to speak to you in person about this. Please, stop by the office at your earliest convenience. - Margie
|Recommended: YesA excellent place to live — Definitely a place to live.
|Recommended: Yes
Decent apartments for the price. — I just moved in and I have had no issues. However you might worry about parking especially if you have more than one vehicle. The property staff are great to work with especially in these COVID-19 times. The grounds are well kept.
Thank you for your kind words. We recognize these difficult times and are committed to making a positive impact for all our residents. Parking is first come 1st served. Please consider being on the wait list for a carport. Stay safe. The Kensington Gate Team.
|Recommended: Yes
Love it — Much better then sawyer trails friendly front desk super helpful
Thank you for the kind words! We're excited to have you here and are ready to assist in any way we can. We hope you enjoy being here. The Kensington Gate Team
|Recommended: Yes
I like the overall nature of being here — I like how quite it is here
Thank you, Elizabeth, for taking the time to send this review. We appreciate you as a resident and we hope you enjoy (the quiet) for years to come! The Kensington Gate Team